What is SEO & Internet Marketing
What is SEO?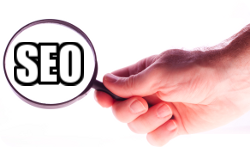 SEO stands for search engine optimization. To generate traffic (visitors), a website must rank well on the major search engines (Google, Bing & Yahoo). SEO is the art of boosting a website so that it sits high-up on a list of search results provided by one of the search engines mentioned above. SEO along with other forms of internet marketing can help improve a websites ranking on the internet. There are many ways to increase a websites ranking on Google or Bing. Backlinks, quality content and a well designed website are just some of the many ways to improve a sites position.
Why does SEO matter?
SEO should be a big deal to any website. If a website doesn't rank well on the major search engines it won't generate very much traffic, which will greatly affect the number of sales or leads you can generate. Placing on the first page of Google & Bing can mean thousands of hits (visitors) a day. Having a website that is focused on seo will generate many more leads & sales compared too a site that does nothing to improve its ranking on Google.
The Three Types of SEO
At Poulton Web Design we like to break SEO down to three main types; Global SEO, Local SEO & Social SEO. All three are important to every website, but from a marketing standpoint one may be more beneficial than the others depending on the website. If you're website sells coffee worldwide, then focusing on global SEO would be more important for your website. If you're website is a coffee shop in a major city than local SEO (Google Places, Bing Local) would provide stronger results for your business. Social SEO is the art of boosting a company or brands image on the different social media platforms (Facebook, Twitter), and engaging the audience to increase sales or improve your image.
SEO by Poulton Web
We provide all types of SEO to our clients. We're a Minnesota website design company that focuses on SEO and traffic results for our clients. Our internet marketing team has tackled the toughest SEO problems for ecommerce, local business and larger websites. If your looking for internet marketing that will put you on-top of the biggest search engines then contact us. From local SEO to social media management. If your business, website or brand need internet SEO please contact us using the form below.
Get in touch.
Please contact us with any comments or questions. We provide free estimates for all our services and products.
Back to Top